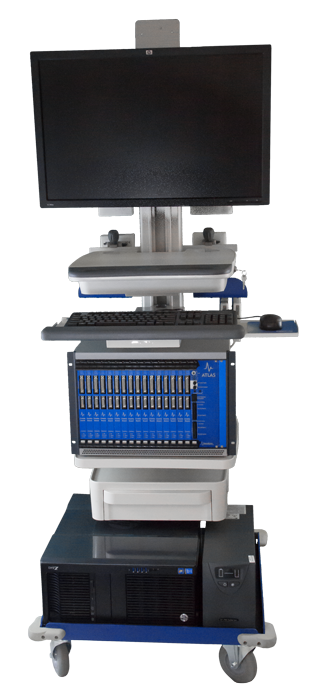 ATLAS Cart
The ATLAS Cart Houses the ATLAS Acquisition Amplifier, the HP® Computer and 30" HP monitor. The ATLAS Cart Accommodates up to 8 NKSS/TPSS Signal Splitter Cables and up to 8 Headboxes
Specifically designed for use in hospitals and laboratories where patients must be electrically isolated from mains power, Neuralynx's ATLAS Cart meets medical grade safety requirements for the integration and portability of the ATLAS Neurophysiology System components. The ATLAS Cart includes an isolation UPS transformer for AC ground current leakage control.
The ATLAS Cart houses the ATLAS Acquisition Amplifier, the HP® computer and 30″ HP monitor. The ATLAS Cart accommodates up to 8 NKSS/TPSS Signal Splitter Cables and up to 8 Headboxes.
There are mounting hooks and/or wire control for up to 16 Tether Extension Cables, and storage locations for CHETs (Clinical Headstage Electrode Tails), with baskets to keep cables and tethers organized. The BNC Adapter Plate provides mounting hardware for the ADPT-Parallel-Port and 16 BNC Patch Panel.
Also included is a keyboard and mouse tray, along with an additional writing surface.
The ATLAS Cart features anti-static/conductive casters and a braking method to secure the Cart's movement.
Catalog Number
31-0605-0116