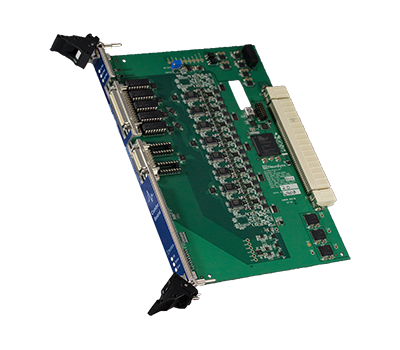 ATLAS Combo Board
Provides 32 Channels of Acquisition with a Sampling Rate up to 40 kHz Independently Per Channel and from DC to 8kHz at 24 bit Resolution
Increase the maximum channel count of your ATLAS Neurophysiology System from 256 to 512 channels with the ATLAS Combo Board. The foundation of ATLAS system, the ATLAS Combo Board performs both analog-to-digital signal conversion and digitally controlled reference selection. 32 simultaneously sampling A/D converters at 16 kHz – 40 kHz samples rates. 24 bit A/D converters (value of 6th bit is 1 µV) – ensures wide input range & high voltage precision.
One ATLAS Combo Board replaces the ATLAS Hybrid Input Board and ATLAS DRS-36 Board pair in the ATLAS Acquisition Amplifier, doubling channel count from 256 to 512:
1 ATLAS Combo Board = 32 channels
16 ATLAS Combo Boards = 512 channels
One board with Digital Reference Selection and Analog-to-Digital Conversion
24 bit A/D converters
Common Mode Rejection ratio – exceeds 105 dB at 60 Hz
40 KHz Sample Rate
8 Analog References per Board
Simultaneous sampling across all channels and system
Lower Cost per Channel
User Selectable Sampling Rate: 16KSPS – 40KSPS (2KSPS increments)
Sample at lower rate to save disk space
Sample at higher rate for greater temporal resolution
Software Controlled Analog Switch Network:
Allows any A/D Channel, Reference or Global Reference to be used as the recording reference (-Input) for each channel input.
Software Selectable Reference Selection:
7 Local or Global analog references for A/D Converters per ATLAS Combo Board
Select Local Reference for A/D converters via Pegasus software
Selected reference comes from ATLAS Combo Board itself
7 Global Reference Bus channels for referencing between boards
Select Global Reference for A/D converters via Pegasus software
Selected reference comes from a different ATLAS Combo Board
AC Input Range (> 1 Hz) 
 ≈ ±132 mV
DC Input Range 
 Exceeds ±1000 mV
Input Referred Noise 
 1.3 µV rms (0.1 Hz to 9000 Hz)
Input Connector: MDR-50 
 • 32 A/D Channels
• 4 References + 1 Subject Ground

 




 Connects electrode interfaces (ATLAS Headboxes, ATLAS Headstages and ATLAS Signal Splitter Cables)

to ATLAS Combo Board

Global Reference Connector: MDR-26 
 • 7 Global References


 Allows global referencing between ATLAS Combo Boards, and use of the Active Ground Drive