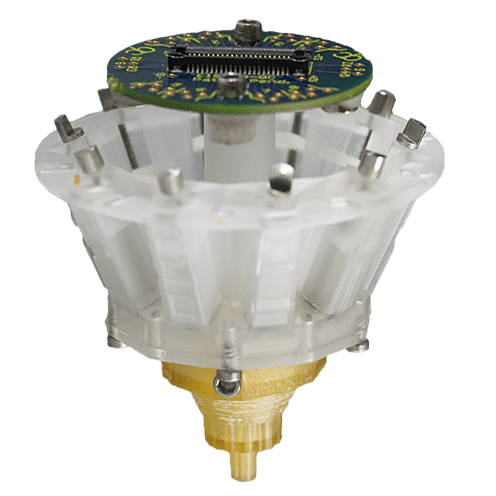 Halo-10 Microdrive
Provides up to 10 independently drivable shuttles to position up to 8 tetrodes with 11mm shuttle travel. Two additional shuttles available for fiber optics or reference electrodes.
Custom "half moon" drive screw head and calibrated Turn Tool provide positive, accurate 16 micron depth adjustment. Halo-10 Exit Tips interface into craniotomy and dictate electrode insertion pattern. We provide two guides to determine which Exit Tip pattern best meets your needs:
Halo-10 Microdrive Exit Tip Configuration Guide
Halo-10 Microdrive Exit Tip Design Guide
Customizable Exit Tip patterns are also available per custom design. Contact Sales@neuralynx.com for guides and details. Halo-10 microdrives seamlessly integrate with Neuralynx's FreeLynx wireless data acquisition systems for signal recording.
Note: All Halo-10 Microdrive components and hardware also sold separately. See User Manual for suggested sources for recommended adhesives and additional tools.
---
Standard and customizable Exit Tip patterns
Reusable (up to 3)
Lightweight, solid and durable with short profile reducing head torque
Less expensive and easier to build
Optogenetic Fiber Mounted LEDS (FLEDs) may be loaded as a drive shuttle
Included:
All necessary components and hardware to build 1 Halo-10 Microdrive, including Omnetics adapter.
Sold Separately:
Halo-10 Assembly Kit
Recommended for use. Includes Assembly Jig, Halo-10 Stereotaxic Mount and Halo Microdrive Turn Tool
Halo-10 Protective Caps
Recommended for easy installation and removal, and safe animal storage.
2 Cap options available:

QuickClip® for magnetic connection
Omnetics
Catalog Number
31-0612-0138
| | |
| --- | --- |
| Tetrode Drives  |  8 |
| Reference Drives  |  2 |
| Grounds  |  1 |
| Travel  |  11 mm |
| Pitch  |  250 microns |
| Drive Resolution  |  16 microns (1/16 turn) |
| Mass  |  6 grams |
| Diameter  |  35.1 mm |
| Height  |  37.5 mm |
| Comments  |  Internal grounding screw pass through |
*Neuralynx is not a distributor of Omnetics parts.