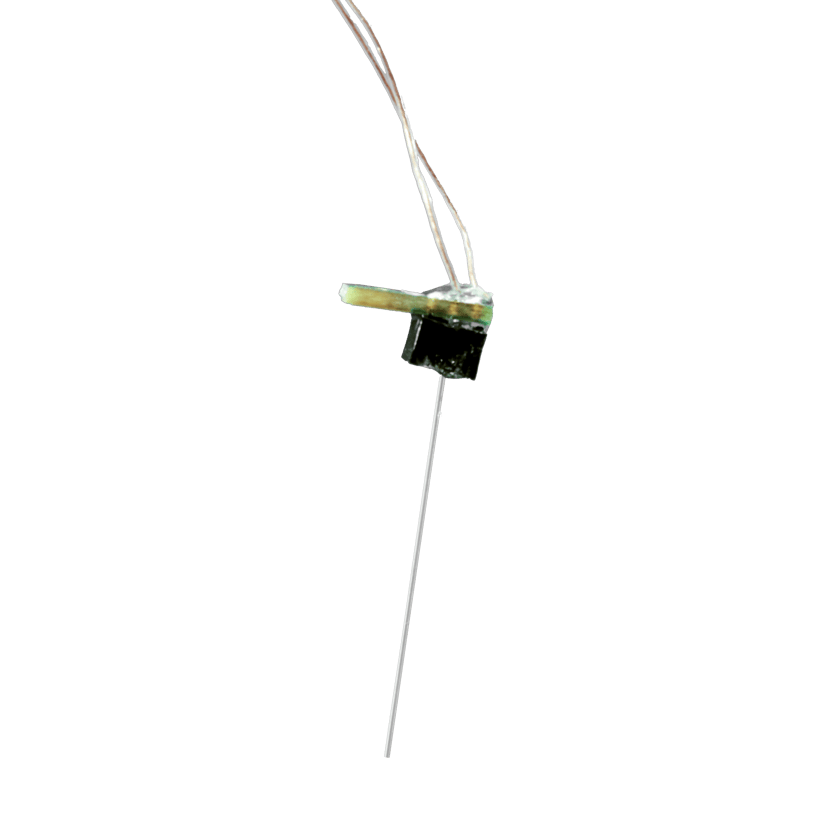 15mm or 33mm Fiber Mounted LEDs
Deliver optogenetic stimulation from directly inside a Halo microdrive.
Miniaturized LED light source and fiber waveguide module integrated into a single Halo-5 or Halo-10-Mini Microdrive shuttle to deliver optogenetic stimulation from directly inside the microdrive.
Simplified optical assembly increases stimulus consistency and consistent light delivery: no optical connections, patch cords, ferrules or FORJ.
LED drive current is delivered through the tether-headstage-EIB differential stimulus channels
FLED Driver with Pulse 2.0 software is required for use.
4 color options: blue, amber, red and green
Integrated into microdrive shuttle – depth adjustment process identical to tetrodes
Mount up to 3 modules in 1 microdrive – same color or combine to mix colors
Integrates optogenetic stimulation into existing Neuralynx systems, including wireless systems
Included:
Output cable(s) for Digital Lynx SX and SX-M.
Sold Separately:
FLED Driver with Pulse 2.0 Software
Stand-alone FLED Driver with 3 output channels for precision real-time stimulus sequencing and delivery. Software stores and triggers up to 255 user-defined sequences.
Omnetics 44 Litz FLED Tether, Omnetics 26 to uDB37 FLED Tether, HS-32/64-MUX-FLED
Twisted pair stim tether. Connects headstage to acquisition system and transports current from FLED Driver to FLED modules.
Catalog Number
FLED-BLUE-33MM (31-0412-0003), FLED-RED-33MM (31-0412-0004), FLED-GREEN-33MM (31-0412-0005), FLED-AMBER-33MM (31-0412-0006) FLED-BLUE-15MM (31-0412-0007), FLED-RED-15MM (31-0412-0008), FLED-GREEN-15MM (31-0412-0009), FLED-AMBER-15MM (31-0412-0010)
Configuration
Wavelength
Power
FM-STIM-LED-blue
Blue LED
465 nm
10 mW
FM-STIM-LED-green
Green LED
525 nm
5 mW
FM-STIM-LED-amber
Amber LED
590 nm
5 mW
FM-STIM-LED-red
Red LED
625 nm
5 mW
| | |
| --- | --- |
| Mass  |  0.2 grams |
| Dimensions  |  9 x 4 x 5 mm |
| Shuttle Drive Screw  |  1 mm |
| Fiber Waveguide Diameter  |  200 µm / microns |
| Fiber Length  |  15 mm or 33mm |